"

One of the Top 10 Jazz Albums of 2016 in both The Times and Mojo Magazine!"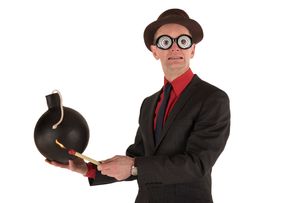 Stu Brown's Twisted Toons takes you on an eye-popping ride through the wacky world of cartoon music, including zany melodies, themes and complete cartoon scores by Carl Stalling (Looney Tunes) Scott Bradley (Tom and Jerry), Raymond Scott and more, all performed with relish, virtuosity and humour by a super-tight septet of A-list jazz musicians.
Stu first formed his Twisted Toons project in 2008 to celebrate 100 years since the birth of little known bandleader, composer and inventor, Raymond Scott (www.raymondscott.net), whose wacky 'cartoon jazz' featured in many of the Looney Tunes cartoons from the 1940's onwards. The band's performances of Scott's manic, offbeat compositions, such as "Dinner Music for a Pack of Hungry Cannibals" and "Square Dance For Eight Egyptian Mummies" proved to be immensely popular with audiences of all ages and back- grounds, from jazz fans to general music lovers, and film and animation fans to families with young children, and have played to packed crowds at many of the U.K.'s leading jazz festivals, including Manchester, Cheltenham, Glasgow, Edinburgh, Gateshead and London, as well a 31 date tour of rural venues in rural England, Wales and Scotland in 2012/2013. "Twisted Tunes – The Music of Raymond Scott", was one of Mojo magazine's top 10 jazz albums of 2009.   

The band's second album, "Twisted Toons Vol. 2 - The Music of Carl Stalling, Scott Bradley and more..."  was released June 2016 and was one of the The Times and Mojo Magazine's Top 10 Jazz Albums of 2016. This follow up release delves deeper in to the world of cartoon music, including several complete cartoon scores from Porky Pig, Roadrunner, Tom and Jerry and Droopy alongside music adapted from Looney Tunes, Droopy, Ren and Stimpy, Tales From the Far Side, Spongebob Squarepants and more.
Band line up: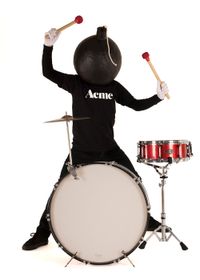 Stu Brown – drums/percussion/sound effects  
Daniel Paterson – violin  
Brian Molley – woodwind  
Martin Kershaw – woodwind  
Tom MacNiven – trumpet  
Paul Harrison – piano/keys  
Mario Caribe - bass